Free IT Exam Dumps Collection
Here you can download some free practice tests for such certifications as MCSE, MCDBA, MCSD, A+, Network+, Security+, CCNA, CCNP, and so on.
All tests on this site have been created with VCE Exam Simulator and ProfExam Suite. Both exam simulators developed for certification exam preparation.
Most Popular Exams
Latest Exam Dumps
| Vendor | Exam | Format | Size | Posted |
| --- | --- | --- | --- | --- |
| Dell | Associate -PowerEdge Exam.NetworkArmy.DEA-41T1.2021-08-01.1e.119q.vcex | vcex | 2.5 Mb | August 01, 2021 |
| Microsoft | Microsoft Azure Fundamentals.ExamCollection.AZ-900.2021-07-30.1e.186q.vcex | vcex | 9.94 Mb | July 30, 2021 |
| Microsoft | Microsoft Azure Fundamentals.DrunkMonk.AZ-900.2021-07-30.1e.230q.vcex | vcex | 13.24 Mb | July 30, 2021 |
| Microsoft | Microsoft Azure Data Fundamentals.DrunkMonk.DP-900.2021-07-30.1e.112q.vcex | vcex | 5.77 Mb | July 30, 2021 |
| Microsoft | UnnaMicrosoft Dynamics 365 Fundamentalsmed.DrunkMonk.MB-901.2021-07-30.4e.93q.vcex | vcex | 4.7 Mb | July 30, 2021 |
| Cisco | Cisco Certified Network Associate (200-301 CCNA).9tut.200-301.2021-07-30.1e.469q.vcex | vcex | 10.9 Mb | July 30, 2021 |
| CompTIA | CompTIA Linux+.NetworkArmy.XK0-004.2021-07-30.1e.253q.vcex | vcex | 5.85 Mb | July 30, 2021 |
| Microsoft | Microsoft Dynamics 365 Fundamentals Customer Engagement Apps (CRM) (beta).DrunkMonk.MB-910.2021-07-29.3e.75q.vcex | vcex | 5.67 Mb | July 29, 2021 |
| Cisco | Cisco Certified Network Associate (200-301 CCNA).PrepAway.200-301.2021-07-29.1e.375q.vcex | vcex | 19.65 Mb | July 29, 2021 |
| Cisco | Automating Cisco Collaboration Solutions (300-835 CLAUTO).PrepAway.300-835.2021-07-29.1e.60q.vcex | vcex | 8.78 Mb | July 29, 2021 |
| Salesforce | Salesforce Certified Data Architecture and Management Designer.ActualTests.CDAMD.2021-06-14.1e.158q.vcex | vcex | 266 Kb | July 29, 2021 |
| Salesforce | Salesforce.VCEPlus.Javascript-Developer-I.2021-05-20.1e.60q.vcex | vcex | 3.95 Mb | July 29, 2021 |
| Huawei | HCNA-HNTD (Huawei Network Technology and Device).Passcert.H12-211.2021-07-29.1e.587q.vcex | vcex | 20.61 Mb | July 29, 2021 |
| CompTIA | CompTIA Project+.NetworkArmy.PK0-004.2021-07-28.1e.505q.vcex | vcex | 1.51 Mb | July 29, 2021 |
| Microsoft | Microsoft Dynamics 365 Fundamentals Finance and Operations Apps (ERP) (beta).DrunkMonk.MB-920.2021-07-28.1e.45q.vcex | vcex | 3.14 Mb | July 29, 2021 |
| Oracle | Oracle Global Human Resources Cloud 2020 Implementation Essentials.dump4pass.1Z0-1046-20.2021-07-29.1e.71q.vcex | vcex | 48 Kb | July 29, 2021 |
| Microsoft | Microsoft Azure AI Fundamentals.PrepDumps.AI-900.2021-07-28.2e.73q.vcex | vcex | 3.7 Mb | July 29, 2021 |
| Microsoft | Microsoft Azure DevOps Solutions.PassLeader.AZ-400.2021-07-28.1e.289q.vcex | vcex | 19.48 Mb | July 28, 2021 |
| ServiceNow | Certified Implementation Specialist – Discovery.VCEPlus.CIS-Discovery.2021-05-22.1e.45q.vcex | vcex | 408 Kb | July 28, 2021 |
| Cisco | Implementing Cisco Advanced Call Control and Mobility Services.PrepAway.300-815.2021-07-27.1e.93q.vcex | vcex | 4.46 Mb | July 28, 2021 |
| Cisco | Implementing Cisco Data Center Core Technologies (DCCOR).PrepAway.350-601.2021-07-27.1e.195q.vcex | vcex | 11.94 Mb | July 28, 2021 |
| Cisco | Implementing Cisco Enterprise Advanced Routing and Services.Cleverly.300-410.2021-07-27.1e.133q.vcex | vcex | 12 Mb | July 28, 2021 |
| Cisco | Implementing and Operating Cisco Enterprise Network Core Technologies.Cleverly.350-401.2021-07-27.1e.100q.vcex | vcex | 9.11 Mb | July 28, 2021 |
| Cisco | Implementing Cisco Application Centric Infrastructure (DCACI).PrepAway.300-620.2021-07-27.1e.79q.vcex | vcex | 2.72 Mb | July 28, 2021 |
| Cisco | Implementing Cisco Collaboration Conferencing.PrepAway.300-825.2021-07-27.1e.59q.vcex | vcex | 1.92 Mb | July 28, 2021 |
| Microsoft | Microsoft Security Operations Analyst.DrunkMonk.SC-200.2021-07-27.1e.62q.vcex | vcex | 4.28 Mb | July 28, 2021 |
| CompTIA | CompTIA Cloud Essentials+.ActualTests.CLO-002.2021-07-27.1e.143q.vcex | vcex | 165 Kb | July 28, 2021 |
| PMI | Project Management Professional v6.ExamCollection.PMP.2021-07-26.1e.2447q.vcex | vcex | 4.32 Mb | July 26, 2021 |
| Microsoft | Windows 10.DrunkMonk.MD-100.2021-07-24.6e.235q.vcex | vcex | 18.7 Mb | July 24, 2021 |
| Cisco | Implementing Cisco Enterprise Advanced Routing and Services (300-410 ENARSI).NetworkTut.300-410.2021-07-23.1e.245q.vcex | vcex | 11.21 Mb | July 23, 2021 |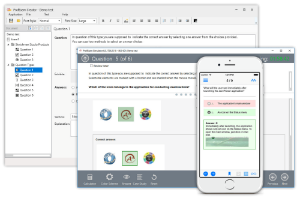 PROFEXAM WITH A 20% DISCOUNT
You can buy ProfExam with a 20% discount..
Get Now!
HOW TO OPEN VCEX AND EXAM FILES
Use ProfExam Simulator to open VCEX and EXAM files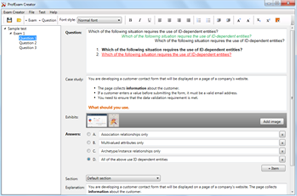 HOW TO OPEN VCE FILES
Use VCE Exam Simulator to open VCE files